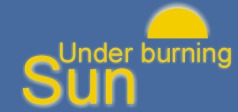 Contents: NWS
Layout: F. Geller-Grimm
Photos: © Krabbe-Paulduro


Length
November 23 2003 up to June 27 2004
Despite the harsh environmental conditions, deserts are full of beauty and support an incredible variety of life. This is particularly true for the Sonora in Mexico and the southwest of the US, which is considered to be one of the most beautiful and diverse deserts of the world.
Famous for the Saguaro or giant cactus, a large variety of cacti, agaves and other plants make the Sonora a "green" desert. Likewise, the fauna of the Sonora is extremely rich with a large variety of snakes, lizards, tarantulas, scorpions, coyotes and the famous roadrunner. Humans inhabit the region for thousands of years, collecting food in the desert and planting crops along the rivers.
Large format photographs, repro-sculptures and wildlife bronzes by the two artists Ursula Krabbe-Paulduro and Ernst Paulduro will give an impression of this spectacular landscape. With models, preserved animals, a "life-like" habitat and live plants and animals we will explain adaptations to desert conditions. Furthermore life of the indigenous population and in particular diet, crafts and everyday life of Pima and Papago people on the reservations will be depicted.
Special Dates
Opening on November 23 2003 at 11.00 a.m. (no admission)
Desert days for children and young people [under construction]
Mseum Hours

Tuesday 10 a.m. - 8 p.m.
Wednesday - Sunday 10 a.m. - 5 p.m.
Closed on Mondays and on 24.12.2003, 25.12.2003, 31.12.2003, 01.01.2004, 22.02.2004, 13.04.2004, 01.05.2004, 01.06.2004, 24.12.2004, 25.12.2004, 31.12.2004

Admission

Adults 4.00 EUR
Adults reduced 3.00 EUR
Children (3-16 J.) 2.00 EUR
Children school classes 1.50 EUR
Families (2 adults, 2 children) 8.00 EUR
Guided tour for school classes 25.00 EUR
Guided tour for private groups 30.00 EUR [information on guided tours]
Example for 30 pupils and one adult, inclusive of a guided tour: (30 x 1.50 EUR) + 4.00 EUR + 25,00 EUR = 74.00 EUR (2.39 EUR per person)

Events

Please check the newspapers and this webpage for special offers and events.

Additional materials

We will offer a quiz for the children and a CD-ROM with some information on the exhibition as soon as possible.