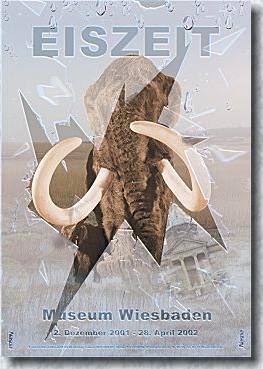 Temporary exhibition at the MUSEUM WIESBADEN
December 2, 2001 - May 26, 2002
last saved: May 30, 2002
Translation & assistence: Mrs. Cordula Page
---
We will thank our 63,140 visitors!
---
Welcome to the Ice Age! Come join us for an exciting adventure. Travel more than 12.500 years back in time to the last Ice Age in our region. Get a close look at life-like Dima, the stunning replica of a Russian Mammuth calf. Marvel at the abundance and diversity of wild life in the cold climate. See how humans, the Cro-Magnons, made a living for themselves. View their reconstructed shelter, and examine their useful tools and deadly weapons. In a reconstructed cave, discover fascinating and detailed cave art of the Cro-Magnons. Feel the excitement of a palaeontologist and dig for fossils in a huge sandbox.
Guided Tours:
Guided tours in English for school classes (20.- EUR) and private groups (30.- EUR) can be arranged upon request by calling Mr. Altzweig, Tel. 0611 - 335 2194. In case he is not in the office, please leave a message on the answering machine, including your name, group size (30 people max.), preferred day of tour and your phone number. He will return your call as soon as possible. Of course, you can also reach him by fax 0611 - 335 2192, or by email.
More than 700 groups have visited the museum's last exhibition (The Rainforest), therefore it is recommend that you book your tour as soon as possible.
Special Programs:
The dates for upcoming events will be posted in the daily newspaper and here on our Homepage.
Please note also that the Wiesbaden Museum houses a collection of Antiquities of Nassau, and a modern art collection in a different wing.
Additionally the "Tier und Pflanzenpark Fasanerie" [zoological gardens] can be reached by Bus 33 in approx. 20 minutes. The park is a home to several animals whose ancestors lived during the last Ice Age, and the animals can be observed a close range.
Quiz:
A quiz especially designed for this exhibition, is available for kindergarteners and school children. You can get the quiz at the cashier`s office or by downloading now:
graphics format [*.gif]
MS-Word-97 format [*.doc]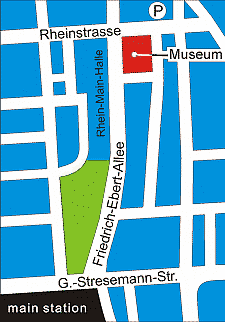 Directions to the Museum:
The Museum is in walking distance (approx. 7 minutes) north of the Hauptbahnhof. If you travel by car, go to the Hauptbahnhof, turn right on Friedrich-Ebert-Allee (the city park is left to the Allee). The Museum is right across from the Rhein-Main Hallen. At the Rheinstrasse turn right and immediately left again and into the parking garage.

Museum Wiesbaden
Friedrich-Ebert-Allee 2
65185 Wiesbaden
Tel. 0611 / 335-2194
Fax 0611 / 335-2192
Email
Museum Hours:
Tuesday 10 am - 8 pm
Wednesday - Sunday 10 am - 5 pm
Closed on Mondays and on Dec. 24. and 25., Dec. 31. 2001, Jan. 1., Feb. 10., and on Apr. 2. 2002.
Admission:
Adults 3.- EUR
Seniors 2.50 EUR
Children (ages 3 - 16) 2.- EUR
Children school classes 1.50 EUR
Families (2 adults, 2 children) 6.- EUR

Guided tours (school classes) 20 EUR
Guided tours (privat) 30 EUR

Handicap accessible.