The collection of leaf mines
of the Museum Wiesbaden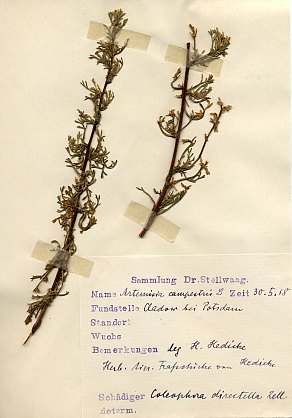 The collection of Prof. Dr. Fritz Stellwaag from Geisenheim/Rheingau is stored in the herbarium. It was donated to the museum in 1968.
The collection contains 1,049 leaves, with 5,000 single mines and 500 different types of mines. There is additional material from the Coll. G. Voigt. The geographical range includes mainly the Rhein-Pfalz and the Rheingau (Rheinland-Pflaz, Hessen - Germany).
Most of the material could be checked and determined by Prof. Dr. M. Hering (Berlin).
Leaf mines are created by the feeding of larvae inside the tissue of leaves (sometimes also from imagines). It is known from the following insect orders: Coleoptera (beetles), Diptera (flies), Hymenoptera (sawflies) and Lepidoptera (moths).
The animals produce characteristic shapes of mines, which are useful for their determination.
Literature
Hendel, F.(1926): Blattminenkunde von Europa. - Wien: Wagner.
Hering, M. (1926): Ökologie der blattminierenden Insektenlarven. - Berlin: Bornträger.
Hering, M. (1935-37): Blattminen von Mittel- und Nordeuropa. -
Hering, M. (1957): Bestimmungstabellen der Blattminen von Europa einschließlich des Mittelmeerbeckens und der Kanarischen Inseln (in 3 Bänden). - Gravenhage: Junk
Rössler, A. (1881): Die Schuppenflügler (Lepidopteren) des Kgl. Regierungsbezirks Wiesbaden. - Jahrbücher des Nassauischen Vereins für Naturkunde 33: 1-393; Wiesbaden.
Stellwaag, F. (1966): Blattminen aus dem Gebiet Rheingau-Rheinpfalz. - Jahrbücher des Nassauischen Vereins für Naturkunde 98: 103-118; Wiesbaden.
Voigt, G. (1929): Beiträge zur Kenntnis der Minen und ihrer Erreger, sowie Beobachtungen über das Vorkommen von Minen im Rheingau und benachbarten rheinischen Gebieten. - Jahrbücher des Nassauischen Vereins für Naturkunde 80(2): 24-73; Wiesbaden.
---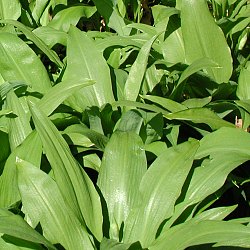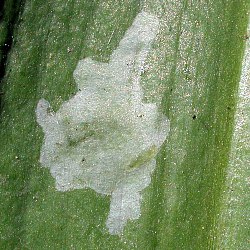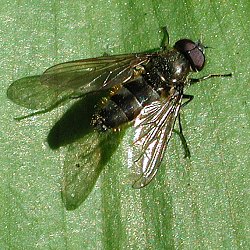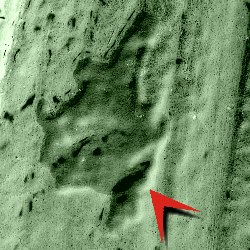 One of the most common leaf mines can be found on Allium ursinum L. in spring. The mines are caused by a hover flyCheilosia fasciata (Schin.), of which the larvae develop inside the leaves (cf. red arrow).
[Photos: F. Geller-Grimm]
---
Links